Regular price
$1,299.00 USD
Regular price
Sale price
$1,299.00 USD
Unit price
per
Sale
Sold out
Inventory varies by location. Please give us a call to check stock in your preferred location!
Winter Haven: (863) 294-4216
Lakeland: (863) 686-3179
Share
View full details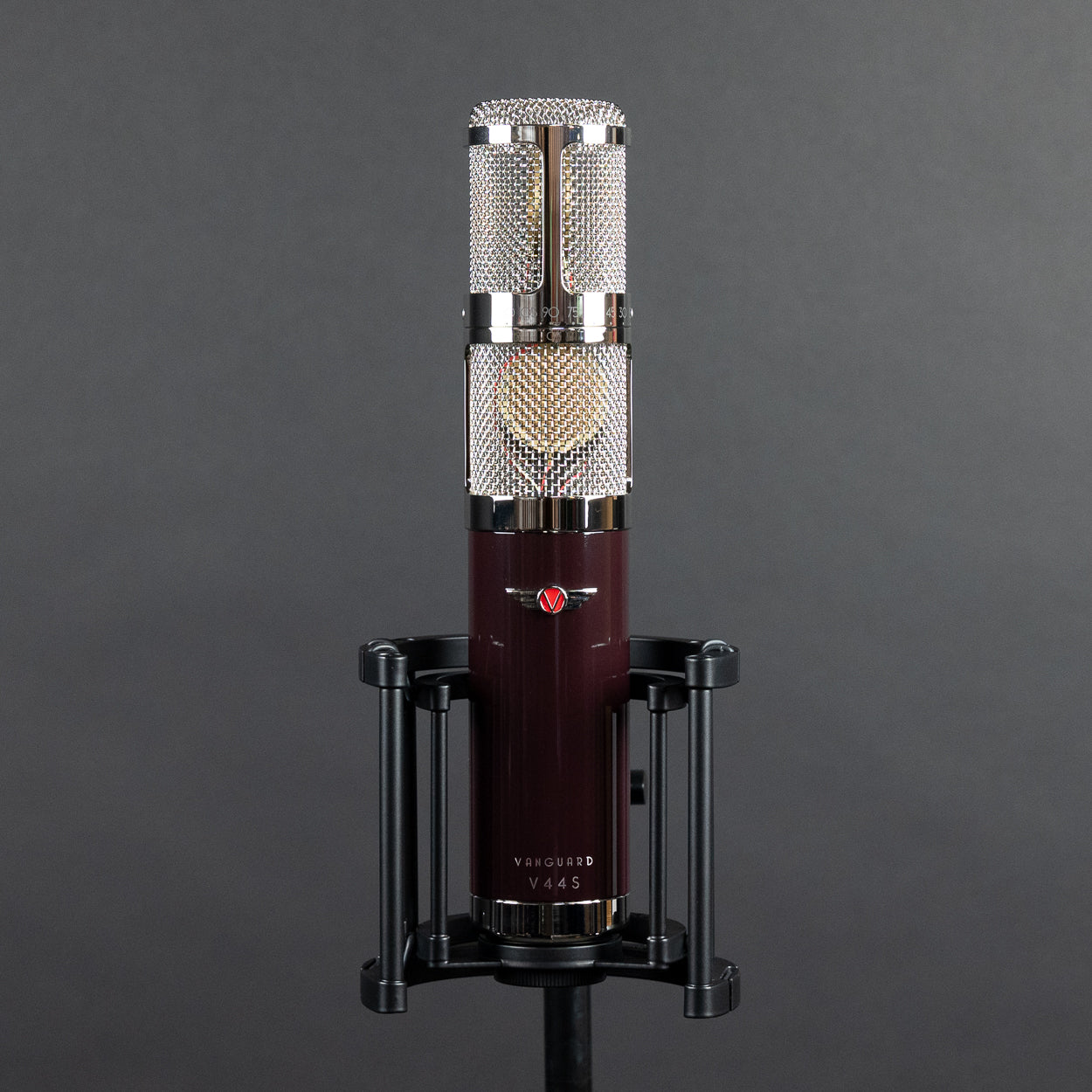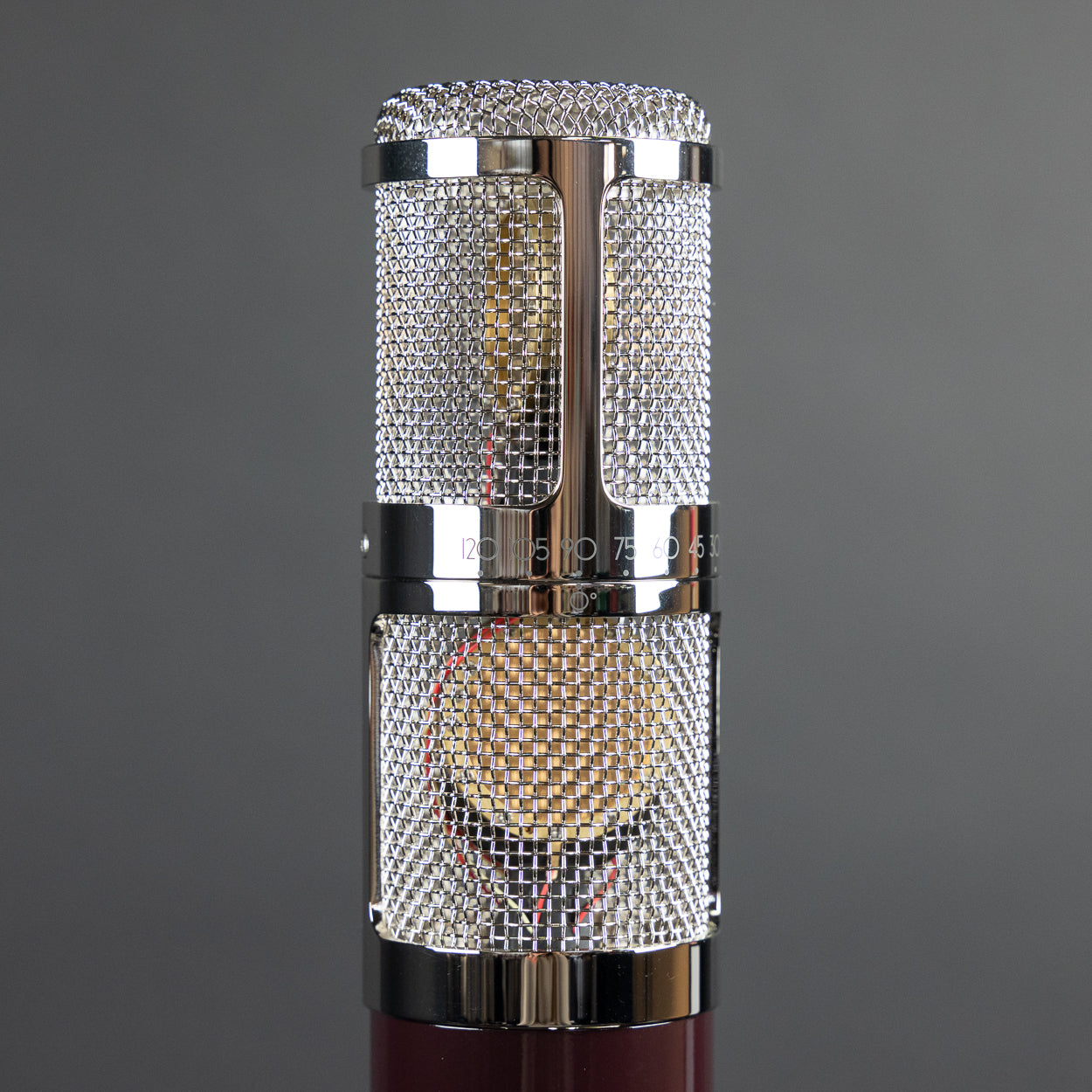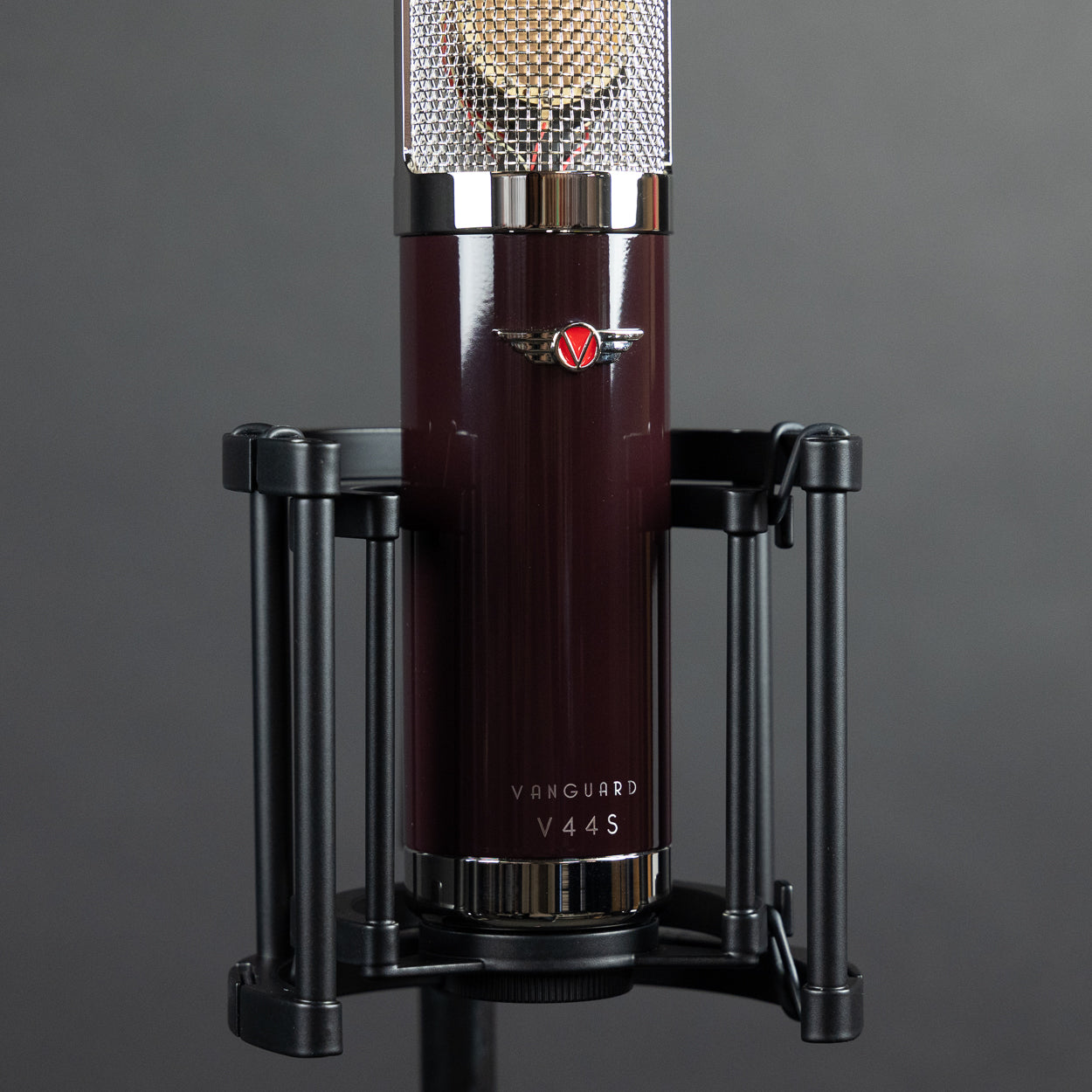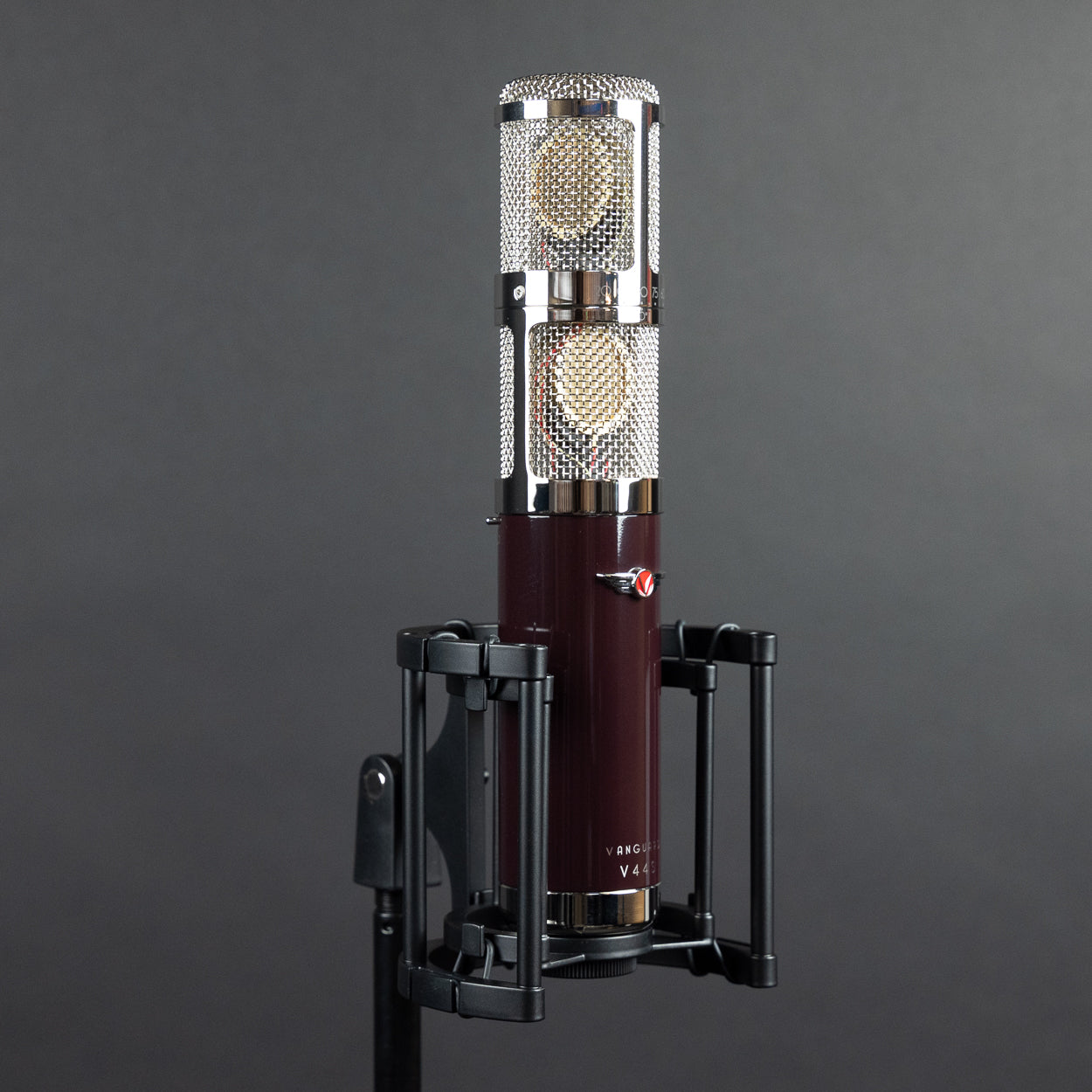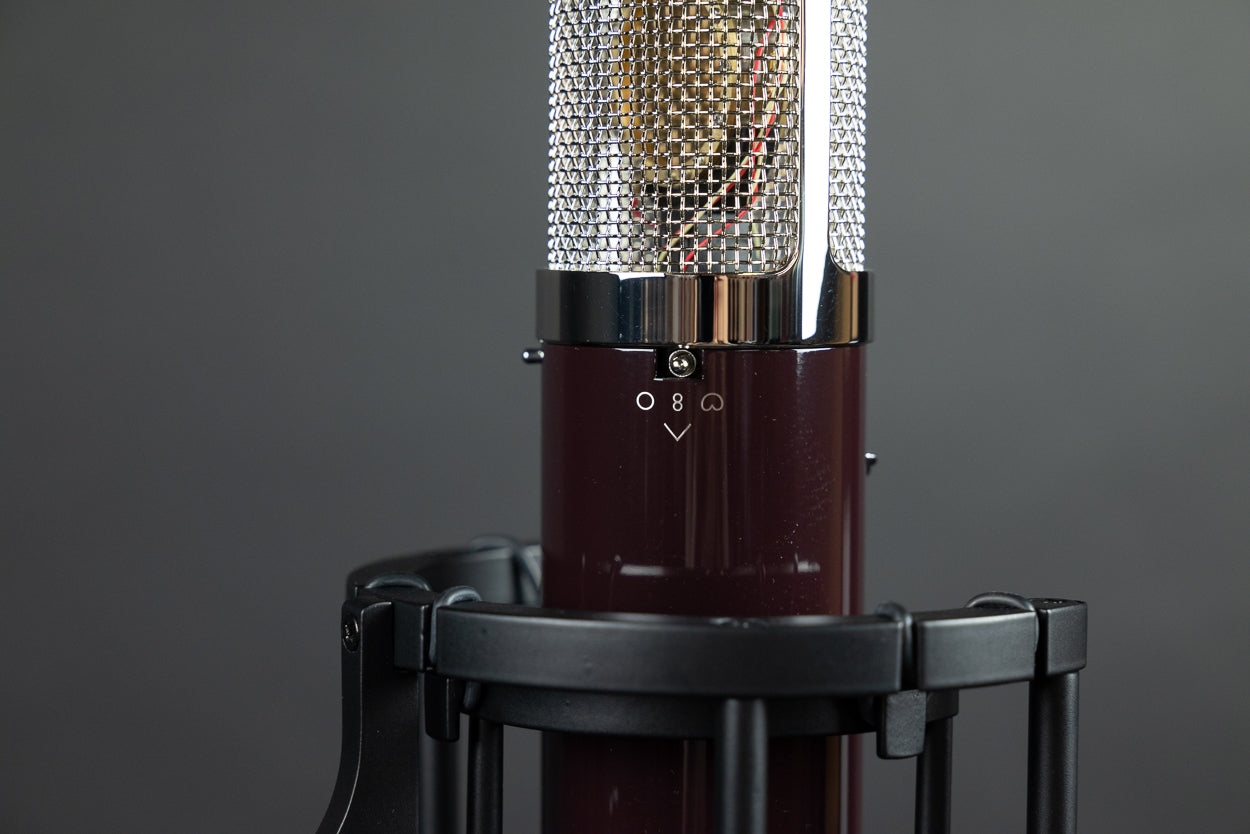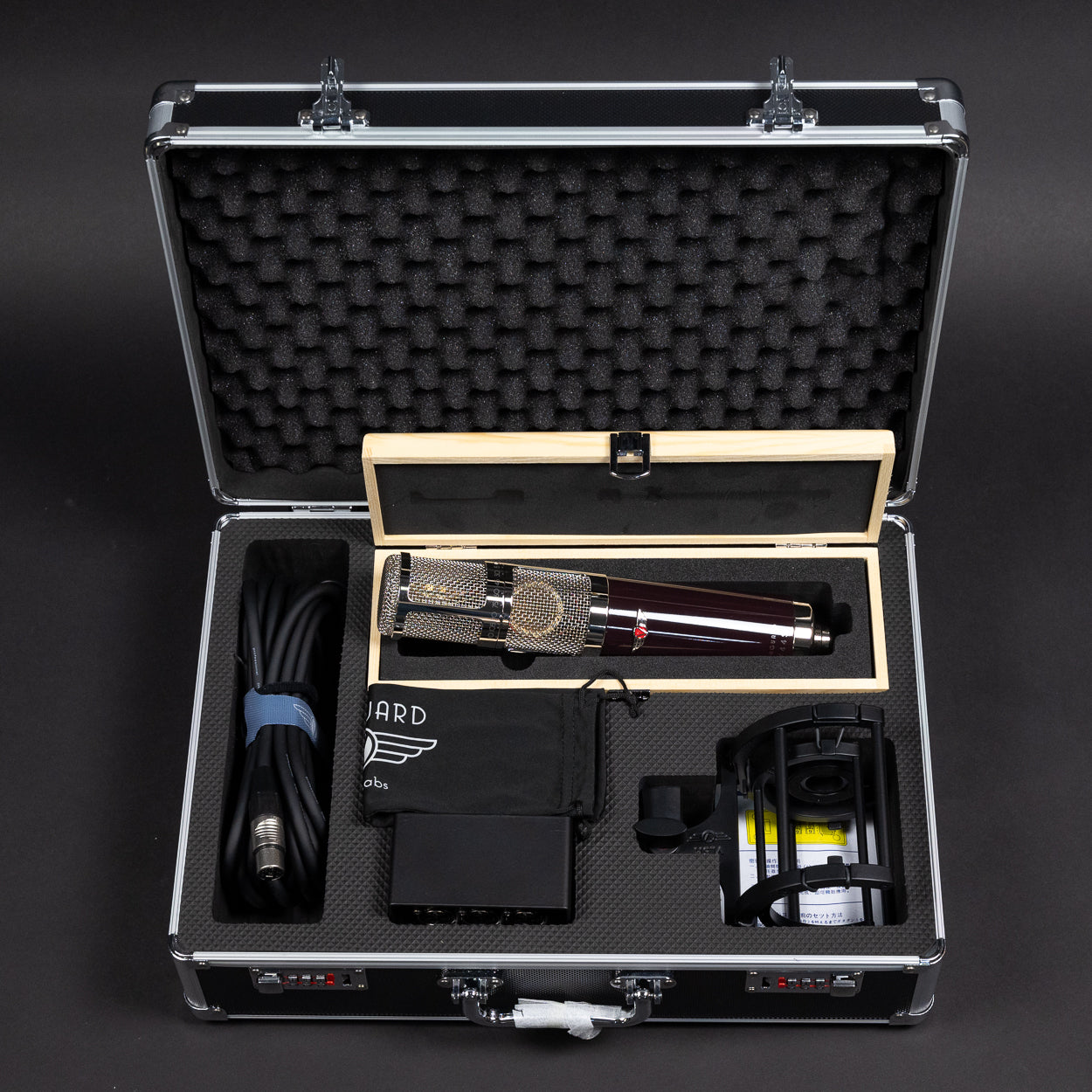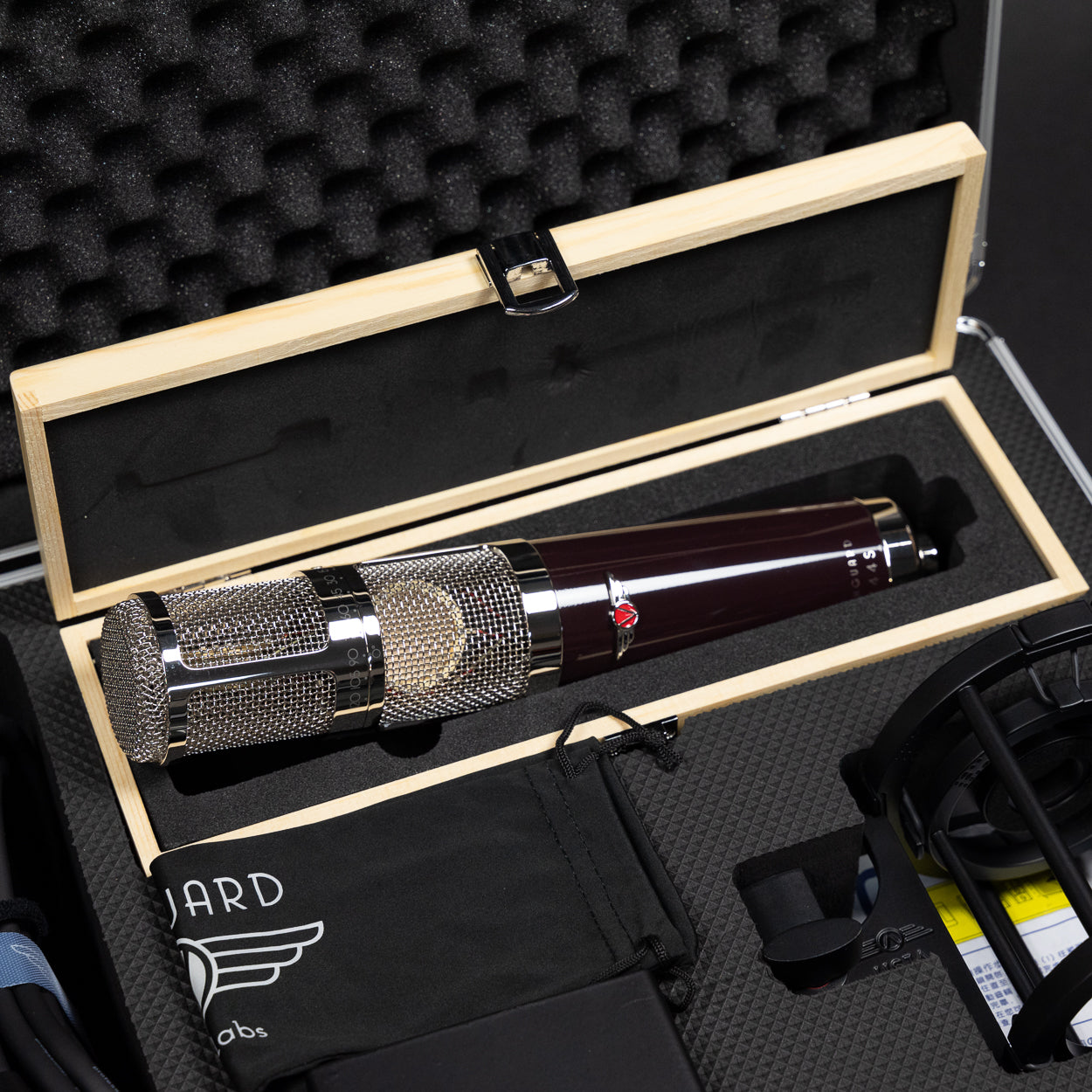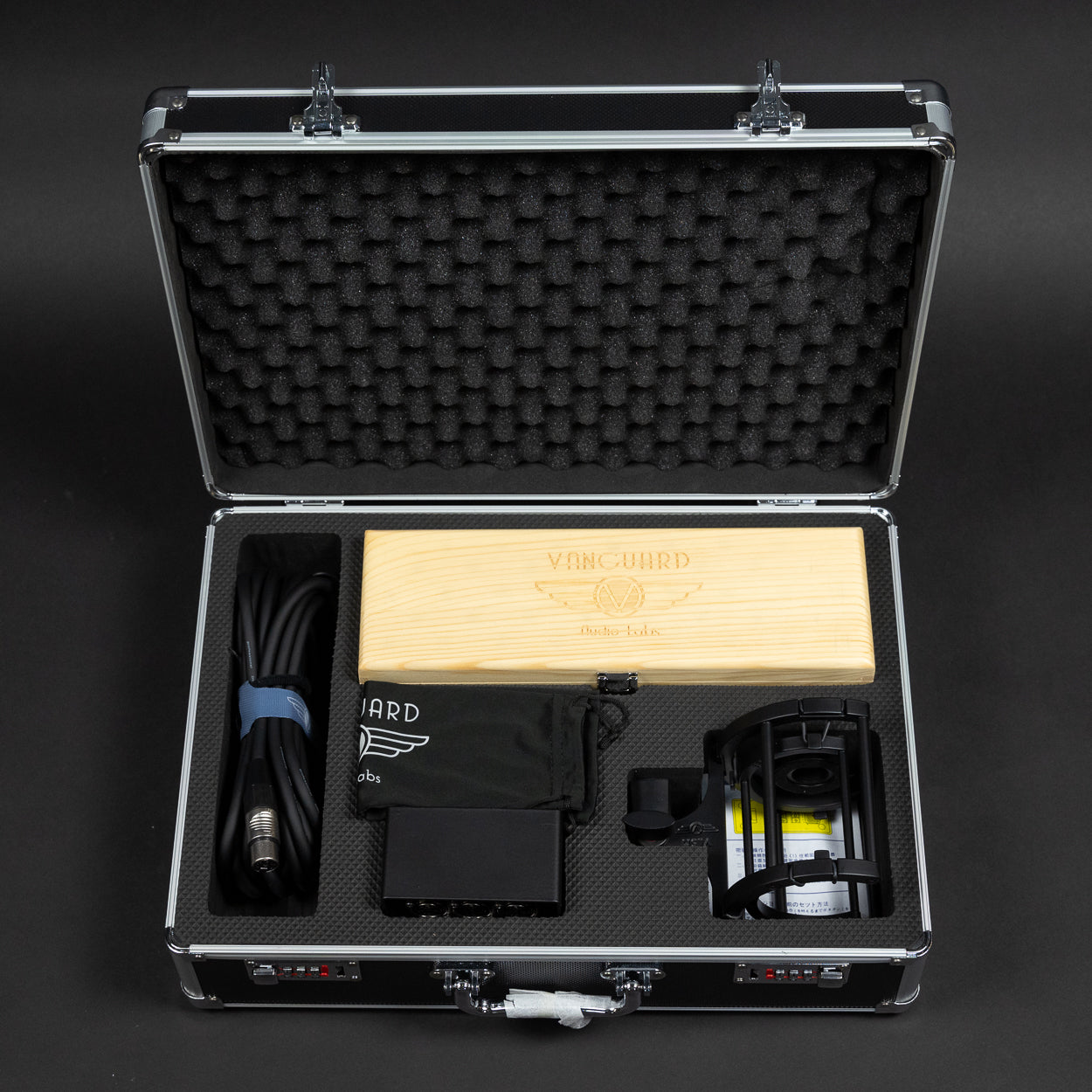 Details
The second generation Vanguard V44S is a stereo large-diaphragm multi-pattern FET condenser microphone lovingly re-imagined by Vanguard's team. This unique microphone is designed to be a versatile, reliable, professional tool in the vein of highly-sought-after vintage stereo condensers of yesteryear. With a pair of twin coincident custom-voiced multi-pattern capsules, you can utilize X/Y, Mid-Side, Blumlein, and other less conventional stereo microphone techniques in a single-microphone. With a gen2 redesigned detented heavy-duty rotation mechanism, premium cryogenically-treated FET circuitry, Neutrik interconnects, and a VLSM shockmount, the V44S is the first and last stereo microphone you'll ever need to reach for.

Vanguard has upgraded key components to audiophile-grade parts, including US-made low-noise resistors. These upgrades have netted a lower signal-to-noise ratio (even though they already had a superb reputation for low noise mics), and vastly improved sound staging. In addition, Vanguard made physical design upgrades in several areas, including a redesigned rock-solid rotating mechanism for the V44S, allowing the user to precisely set the angle of the two capsules and widening the available rotation range to 120º. Even the fit and finish of the final product has been improved, so not only are they world-class performers, but they look good while they're doing it!

FEATURES

CAPSULE & ELECTRONICS

Twin custom-voiced, edge-terminated 34mm dual-capsule assembly with 3µm gold-sputtered Mylar diaphragms

3 independently selectable polar patterns per capsule

Electronically-balanced solid-state circuitry using audiophile-grade parts, sourced from USA, Germany, Japan, France, and more

Deep-cycle cryogenic treatment of critical signal & power path components

120º rotatable top capsule with 15º detents

Versatile splitter box for mobile & live recording conditions

Ultra-low-noise JFET design

US-made low-noise audiophile-grade resistors

CONSTRUCTION
Heavy-duty brass, aluminum, steel, and zinc construction

Robust punched-steel capsule rotation mechanism

Open-weave headbasket for low internal reflections and "open-air" voicing

Each V44S comes with its own laser-engraved serial number

Over-spec componentry

Deep-gloss Pinot Noir finish

Polished nickel trim

Precision-cast Vanguard badge

Neutrik interconnects throughout

Final Assembly & 100% Quality Control in California, USA

5-Year Warranty

QUALITY
The V44S was designed in the USA, and undergoes final assembly in sunny Southern California. Vanguard performs 100% quality control - every single piece of your microphone kit undergoes a series of stringent audio and visual tests before being hand-packed.
Every part of the V44S was designed to be robust and reliable. Wherever possible, components were over-specced. The deep-cycle cryogenic treatment improves the lifespan and performance of critical electronic components. Stainless steel, aluminum, and zinc are part of the heavy-duty construction. Every Vanguard microphone is backed by their five-year warranty.
DESIGN
Vanguard started with twin extra-large 34mm edge-terminated, gold-sputtered 3µm Mylar dual-capsule assemblies and custom-voiced them with a proprietary hand-tuning process, placing each capsule in an open-weave headbasket for a natural sound with low internal reflections. New for the gen2, the top headbasket now rotates up to 120 degrees, with detents every 15 degrees for repeatability of settings.
Vanguard then designed a transformerless solid-state circuit that matches the unique musical properties of their capsules and loaded it with premium-grade, over-spec components cryogenically treated critical components in the signal & power paths, including an ultra-high-grade FET. In the entire Vanguard lineup of gen2 microphones, US-made low-noise audiophile-grade resistors are used, taking the noise floor of the V44S from a very quiet gen1 to a nearly undetectable gen2.
Aesthetically, the precision-machined stainless steel body is coated with Vanguard's signature Pinot Noir, finished with a deep, lustrous gloss, and accented by polished nickel trim and a precision-cast Vanguard badge. The serial number is laser-engraved on the lower rear of the microphone.
PERFORMANCE
Vanguard designed the V44S with the character of classic stereo microphones in mind, while also utilizing modern technology & design to meet the demands of today's recording professionals. Both custom-voiced capsules are independently switchable between cardioid, omnidirectional, and figure-8 pickup patterns, enabling X/Y, Mid-Side, and Blumlein stereo mic'ing within one microphone, as well as less conventional stereo techniques. The heavy-duty, punched-steel rotation mechanism (which detents every 15 degrees) was designed for reliable, durable operation.
The included splitter box contains an additional phase-reversed top capsule output, which is perfect for less-than-ideal recording conditions such as concert taping. This allows mid-side recording with no additional mixer patching.
SPECS
Transducer Type: Condenser

Capsule Size: 1.34″ / 34mm (dual-capsule)

Diaphragm Size: 1.04″ / 26.4mm

Capsule Diaphragms Thickness: 3µm

Electronics Type: Solid-state, electronically-balanced output

Output Impedance: 200Ω

Max SPL: appx. 135dB (145dB w/ Pad)

Frequency Response: 20Hz-20000Hz

Equivalent Noise Level: ≤14dBA (A-weighted)

S/N Ratio: ≥80dB (Ref. 1Pa A-weighted)

Output Connector: Neutrik Male XLR 5-pin, gold-plated

Finish: Polished nickel trim / High-gloss Pinot Noir

Weight (microphone): 1.5 lbs / 0.68kg

Weight (in case): 9.625 lbs / 4.37kg

Dimensions (microphone): 10.63″ long, 2.05″ max diameter / 270mm long, 52mm max diameter

Dimensions (case): 16.92″L x 12.60″W x 6.02″H / 430mmL x 320mmW x 153mm

Voltage Requirement: Phantom Power (+48V ideal)

INCLUDED ACCESSORIES
VLSM Large Shockmount

V44S Splitter Box

5-Pin Heavy-Duty Microphone Cable

Padded Pinewood Microphone Storage Box

Locking Aluminum Carrying Case

When not in use, your V44S should be stored in its padded pinewood box.The aluminum combo-lock carrying case keeps your V44S microphone, pinewood box, cable, and splitter box in one place.