Regular price
$239.00 USD
Regular price
Sale price
$239.00 USD
Unit price
per
Sale
Sold out
Inventory varies by location. Please give us a call to check stock in your preferred location!
Winter Haven: (863) 294-4216
Lakeland: (863) 686-3179
Share
View full details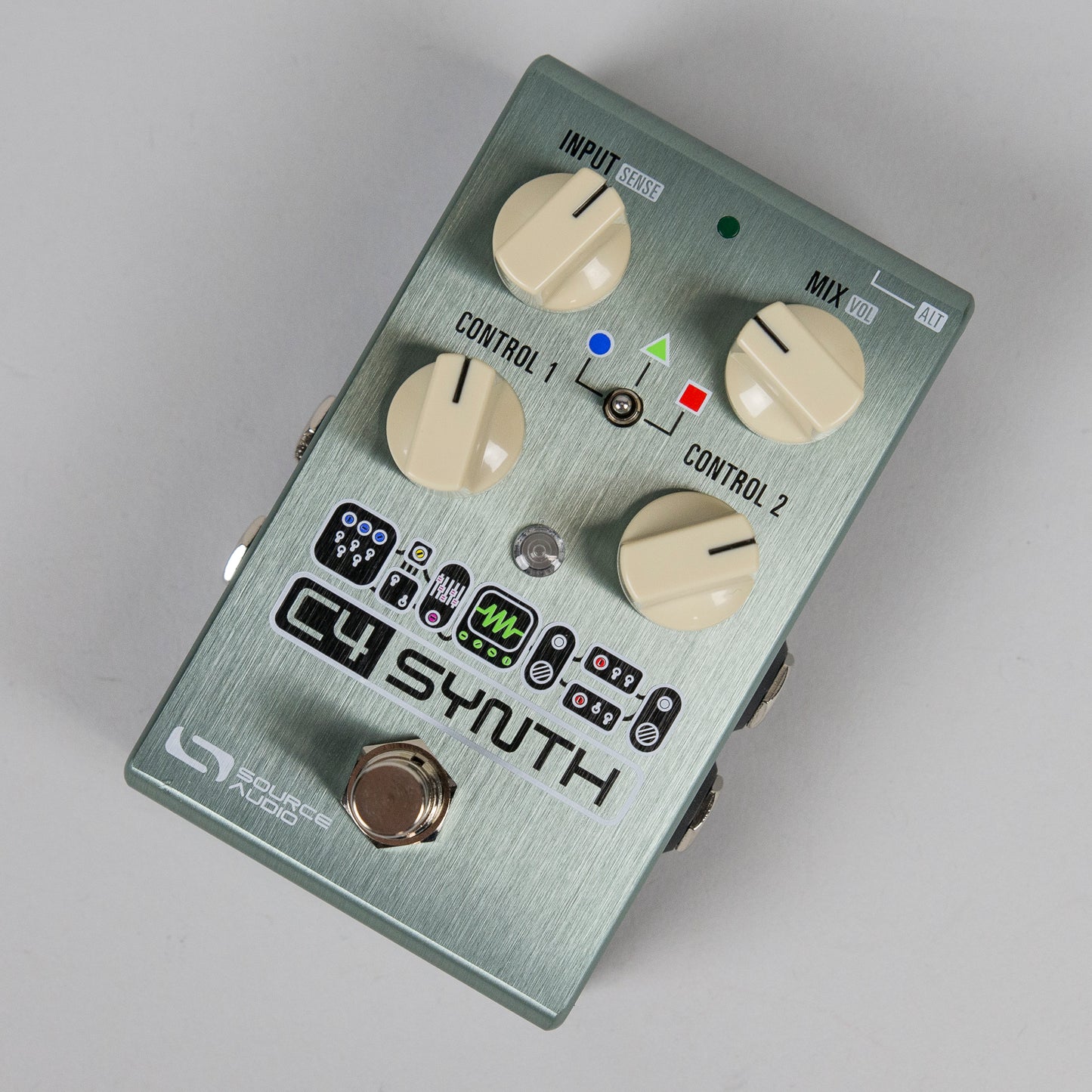 Details
C4 SYNTH
The C4 Synth unites all the sound creation tools of a classic Eurorack modular synthesizer and packages them in a compact and easy-to-use effects pedal for guitar or bass. Out of the box the C4 offers six dynamic synth tones that range from vintage analog to the thoroughly modern. It is essentially a modular synth in a small pedal with unprecedented tracking abilities, lightning-fast response, and countless sound options. With the addition of the Neuro Desktop Editor (a free download for Mac and Windows machines) and Mobile App. (for iPhone and Android) it's easy to browse from the ever-growing library of highly-inspired presets created by the Source Audio crew and the expanding community of C4 enthusiasts.

BROWSE, BURN, AND PLAY
​It's that easy. When you're ready to explore beyond the C4's six onboard presets simply jump to the Neuro Desktop's Cloud tab or the Neuro Mobile App's Browse function and check out all the available presets created by the Neuro Community and the Source Audio team. Source Audio has a huge and growing-huger collection of vintage and contemporary synth effects that are guaranteed to amaze. When you find that mind-blowing tone that you can't live without, simply click the BURN icon and upload the preset directly to your C4 - it will be waiting for you at the next gig.

PEDAL FEATURES

Six Preset Positions: Use the C4's three-position toggle switch and two preset banks to save six easily accessible presets.

Growing Library of Published Presets: For quick access to a world of great tones, try sampling sounds from a vast collection of published presets created by the Source Audio team and the ever-growing C4 Neuro Community.

Unprecedented Sound Sculpting Options: The powerful Neuro Desktop Editor (Free download for Mac and Windows) and Neuro Mobile App (iOS and Android) offer maximum sound exploration possibilities. Use Neuro's modular synthesizer inspired editor to create custom C4 Synth presets that can be burned directly to the pedal, saved to a private cloud based library or shared publically with other members of the Neuro Community. 

Supreme Tracking: If tracking matters to you (and it should), you will be amazed by the lightning quick, imperceptible latency of the C4 Synth.

128 MIDI Accessible Factory Presets – The addition of a third party MIDI controller with USB host provides access to any of the pedal's 128 Factory presets.​

Stereo Inputs and Outputs: Use the Neuro Editor's panning controls to route each Voice to any location in a full stereo spread.

Compact Design – The durable, anodized aluminum housing has a small footprint and sturdy hardware. Dimensions: L: 4.5 in./11.4cm x W: 2.75 in./7cm x H: 2 in./5.1cm (including knobs).

Universal BypassTM – Select either analog buffered or relay based True Bypass.

USB Port - Class compliant USB-MIDI allows the C4 to work as a plug-and-play device with recording software running on Mac and Windows recording software or any third party MIDI controller with USB host. The USB port also offers connectivity to the Neuro Desktop Editor providing access to deep editing possibilities and pedal firmware updates.

​External Expression and Tap Tempo Control — Use the Control Input jack with the Source Audio Dual Expression Pedal (expression control to multiple parameters) or Tap Switch (adjust LFO rates on the fly).

MIDI FEATURES
The C4 Synth responds to MIDI Program Change (PC) and Continuous Controller (CC) messages via its mini USB port. The USB port handles communication between the C4 and digital audio workstations (DAW) on Mac and Windows machines as well as external MIDI controllers with USB host support (Source Audio recommends the DMC.micro from Disaster Area Designs)
Preset Saving – Save up to 128 effect presets.

MIDI Mapping – Use the Neuro Desktop Editor to easily map MIDI Continuous Controller (CC) messages to a comprehensive list of parameters.

Preset Recall - Use MIDI CC numbers 103 & 104 to recall any of the C4's 128 MIDI accessible presets.

MIDI Clock – Sync the C4's LFO rate with external MIDI clock messages.

The Neuro Hub - Connect the C4 to the Neuro Hub and use MIDI CC messages to control parameters or recall presets.

​Note: As of Hub fw 1.18 and C4 fw 1.14, the C4 can now be added to scenes, is visible through the Hub, and can be controlled by PC messages, giving you the full access to 128 preset slots. 

SPECIFICATIONS
Includes 9v DC power supply (300mA / Negative Tip)

Includes 1/8" to 1/4" cable for Neuro Mobile App connection.

Power Consumption — 165mA

USB port — Connects to Mac or Windows PC for firmware updates and the forthcoming in-depth effects editing software.

Brushed anodized aluminum housing.

Dimensions: L: 4.5 in./11.4cm x W: 2.75 in./7cm x H: 2 in./5.1cm (including knobs)