Regular price
$283.99 USD
Regular price
Sale price
$283.99 USD
Unit price
per
Sale
Sold out
Inventory varies by location. Please give us a call to check stock in your preferred location!
Winter Haven: (863) 294-4216
Lakeland: (863) 686-3179
Share
View full details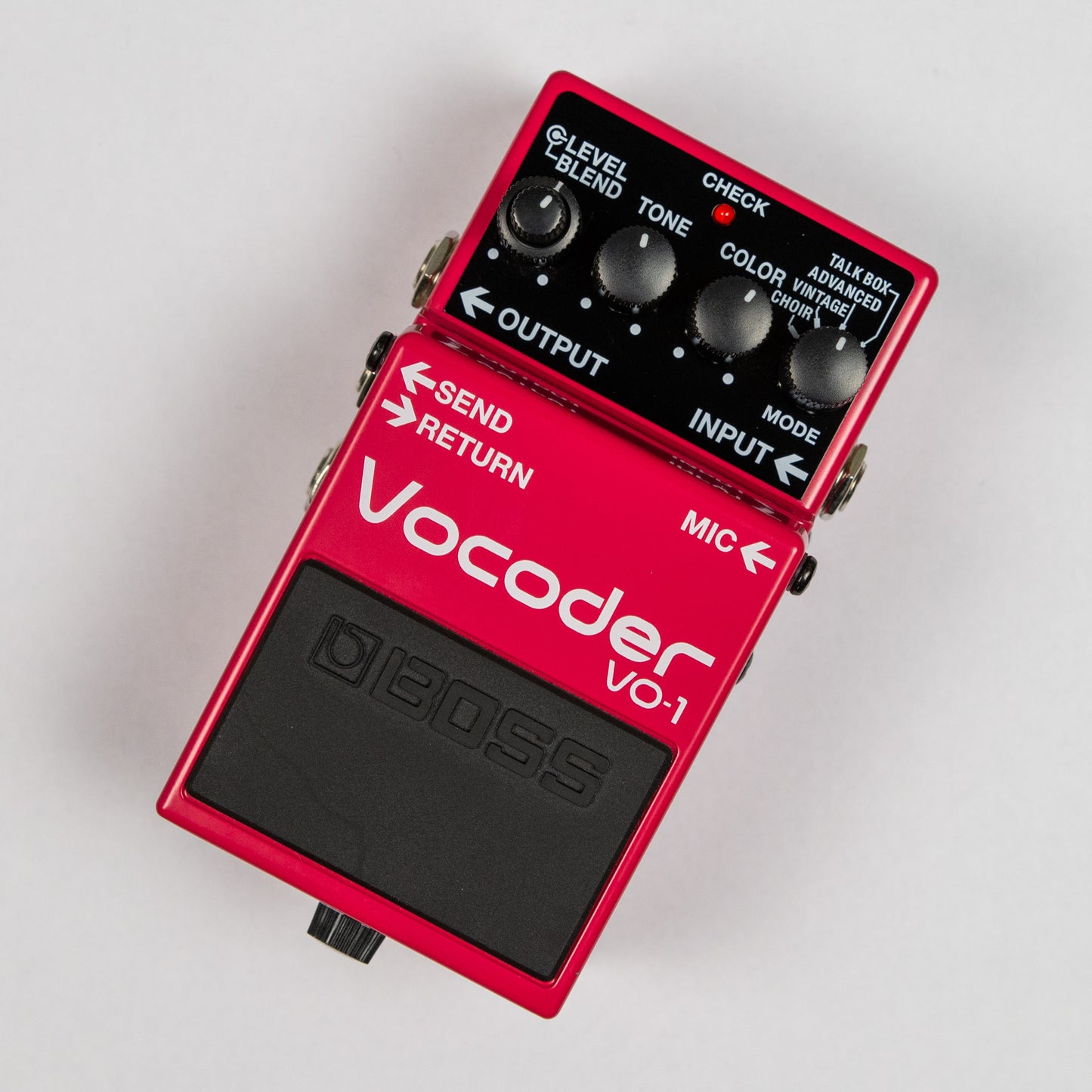 Details
MAKE YOUR AXE TALK, SING, AND CRY
The VO-1 Vocoder is a unique and innovative stompbox that puts the massive expressive range of the human voice in the hands of every guitarist and bassist. By vocalizing into a connected mic as you play, it's easy to transform your tone with electronic voices, classic talk box sounds, and tons of all-new colors that are perfect for modern music styles. It's even possible to create impressive ensemble vocal sounds without the need to connect an external mic. When you plug into the VO-1, you can literally talk, sing, and cry with your axe, taking your playing to places you never dreamed of before.


Innovative, easy-to-use vocoder pedal powered by BOSS' famous guitar synth technology

Use your voice to dramatically extend the expressive range of your instrument in countless ways

Vintage mode for classic electronic synth-voice sounds and Advanced mode for all-new vocoder tones with enhanced clarity

Talk Box mode enables "talking lead guitar" tones without the hassles of a traditional talk box setup

Choir mode for achieving rich vocal sounds with no mic connected

Effect loop for sound enhancement and easy integration with existing pedals

Works with guitar, bass, or any instrument with a 1/4-inch output

BOSS five-year warranty

Powerful Vocal Expression for Guitar and Bass
Without a doubt, the human voice is the most expressive instrument there is, capable of producing a massive range of sounds. Vocoder technology lets you harness this power and control the tone of your instrument in endless ways via real-time vocal manipulation, achieving speech-like sounds, infinitely controllable wah, and much more. For decades, keyboardists have used vocoders to create electronic vocal tones and other voice-like textures with synthesizers. Now, the VO-1 makes it simple for guitarists and bassists to use this inspiring creative tool with their music.
Cutting-Edge Vocoder Technology in a Compact Stompbox
Driven by BOSS' famous guitar synth technology, the VO-1 delivers power and versatility that goes well beyond other vocoders. Vintage mode produces the familiar synthesized voice sounds heard on numerous pop and electronic music records through the years, while Advanced mode utilizes new BOSS tech to translate speech and other vocalizations to your axe with unprecedented definition and clarity. Talk Box mode recreates classic "talking lead guitar" tones without having to use a traditional talk box rig and mouth tube, making these cool sounds much more accessible and convenient. Finally, Choir mode produces rich, impressive vocal textures from a direct input, with no mic needed.
Infinite Possibilities Made Easy
With the VO-1, BOSS has made the vocoder straightforward and incredibly simple to use. First off, it connects to your rig like any other pedal. The only additional connection needed is a microphone, which you'll use to drive the VO-1's vocoder engine when using the first three modes. After that, just turn on the effect, tweak the knobs, and vocalize into the mic as you play. Don't worry—you don't even need to be able to sing in tune. You handle all the pitch control with your hands as normal, while the VO-1 applies the complex formant characteristics of your voice to the tone in real time. The VO-1 also features an effect loop for patching in external effects, plus a Blend knob for mixing vocoder and straight tones together.
SPECIFICATIONS
Modes: 4 modes


ADVANCED

VINTAGE

TALK BOX

CHOIR


Nominal Input Level: 

INPUT, RETURN: -20 dBu

MIC: -40 dBu (MIC SENS: LOW)

Input Impedance: 

INPUT, RETURN: 1 M ohm

MIC: 4 k ohms

Nominal Output Level: OUTPUT, SEND: -20 dBu 

Output Impedance: OUTPUT, SEND: 1 k ohm

Recommended Load Impedance: 10 k ohms or greater

Bypass: Buffered bypass

Controls: 


Pedal switch

MIC SENS switch

MODE knob

COLOR knob

TONE knob

BLEND knob

LEVEL knob


Indicator: CHECK indicator (Serves also as battery check indicator)

Connectors: 


INPUT jack

MIC jack (XLR type) 

RETURN jack

OUTPUT jack

SEND jack

DC IN jack


Power Supply: 


Alkaline battery (9V, 6LR61) or Carbon-zinc battery (9V, 6F22)

AC adaptor (sold separately)


Current Draw: 65 mA
Expected battery life under continuous use: 

(These figures will vary depending on the actual conditions of use.)

Alkaline: Approx. 5 hours


Accessories: 


Owner's Manual

Leaflet ("USING THE UNIT SAFELY," "IMPORTANT NOTE," and "Information")

Alkaline battery (9V, 6LR61)


Options (sold separately): AC adaptor: PSA series

SIZE AND WEIGHT
Width: 73 mm(2-7/8 inches)

Depth: 129 mm(5-1/8 inches)

Height: 59 mm(2-3/8 inches)

Weight (including battery): 450 g(1 lb)